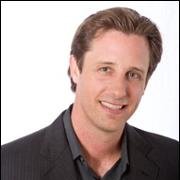 Sean D. Stewart is a business coach for coaches, holistic practitioners, and heart-centered entrepreneurs as well as the founder of The Creative Track, a business training and multi-media information publishing company.  Sean's focus is helping entrepreneurs attract more ideal clients so they can grow their business to the six figure level and beyond.
In today's interview, Sean talks about how he changed his life around completely after breaking his ankle after a boating accident.  Spending his days resting and healing, he made the decision to dedicate himself to achieving his goals and implemented a powerful daily morning routine that helped him stay focused.  He shares with us exactly what he did to turn his life around, and how he now coaches his clients to do the same.
BEST ADVICE:
There will be moments when you will not feel like working and dealing with your clients, etc.  If you allow those feelings to be your control mechanism, they will run your business.  You are being controlled by forces outside of you.
If you are clear on WHY you are doing what you are doing, and why you get up every day – that is something that you may need to return to when you need motivation to do something that you don't want to, or that you are bored by.
BEST MINDSET SHIFT ADVICE:
Change your body language and step into a powerful stance, or step into a loving stance.  The body is the key.  Change your posture and put a smile on your face.  Then remember a time in your life when you performed at your best.  You can shift your state of mind by changing your physiology.
BEST QUOTE:
The quality of your life is proportional to the amount of discomfort that you're willing to live in.
NATASHA'S REFLECTIONS:
I am so inspired by Sean's morning routine.  In the interview, he calls his routine the backbone of his work.  Those structures safeguard his clients from falling backward.  It is so easy to get distracted, to lose steam, and give up on yourself and your dream.  If you have a solid routine that you are committed to following, that energizes you and reminds you of your commitment to your goals – you are powerfully directing your future toward your vision.  There is nothing to lose, and so much to gain by implementing that routine in your life.
BOOKS:
"The Science of Getting Rich", by Wallace D. Wattles
"Winning Through Intimidation", by Robert Ringer
"Influence", by Robert B. Cialdini
"Good to Great", by Jim Collins
LINK'S