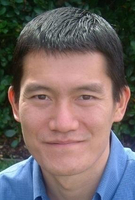 George Kao is a coach who helps people create their "true livelihood", which he defines as work that is mentally challenging, spiritually growing, and financially sustaining.  George, at one point in his coaching career, was making around seventy thousand per month when he realized that he was not helping most of his clients reach their goals and desires. He then  decided to give all his information products away for free, and only charge a reasonable fee for his time as a one-on-one coach.
In today's interview, George pulls back the curtain of the world of internet marketing guru's and shows us the reality of the results most students are getting after signing up for expensive coaching programs and buying marketing information products.  He also shares many of his realizations and pearls of wisdom he gained after years of being a high-end marketing and success coach, and why he decided that this was not a fulfilling or joyful path.
BEST ADVICE:
Your true livelihood is a true partnership between you and the universe.  Coming to your calling isn't just looking into yourself and saying, "This is what I would be passionate doing".  It is also connecting enough with other human beings to feel their energy inspire and motivate you.
In today's world, when so many jobs are being automated, run by computer systems, and outsourced, those of us who live in "high cost of living" countries need to start shifting  toward work that is much harder to automate.  Typically that work involves relationships. (Relationships meaning – connecting with other human beings on a level that robots cannot yet duplicate).
BEST QUOTE(S): 
The truth and the power to actually live your dreams is within you.  I have seen this from client to client.  I did not do any kind of magic. (George Kao)
"I wish everyone could achieve massive wealth and success, because then they would realize that that's not really it" – Jim Carrey
Design your ideal lifestyle first, and then put your business activities into that schedule. (George Kao)
NATASHA'S REFLECTIONS:
George really walks his talk.  Every time I talk to him, I am left feeling happier, lighter, and more at peace.  I think only very spiritual and high vibrational people can spread that kind of energy around them.  I love that he gives away all his information for free, and I will share a link to his 'mind map' below for you all to check out.  There is a category in the map that I particularly like called "matching" and it refers to matching your skills and talents to a way to create an income.  This entails researching what products and services are out there that people are using and buying already.  George points out that many idealists try to create their own vision without understanding what people know that they want and need.  I love that George, though clearly a very spiritual man, is still very grounded and offers practical business and marketing guidance to his students.
BOOKS:
"The 7- Day Start-Up", by Dan Norris ( please google "7-Day Start-Up" and "George Kao" together, in order to view George's interpretation/adaptation  of that book for service professionals (coaches, healers, etc)
"Life's Operating Manual", by Tom Shadyac
"The Afterlife Unveiled", by Dr. Stafford Betty
"The Afterlife Experiments", by Dr. Gary Schwartz
LINKS: